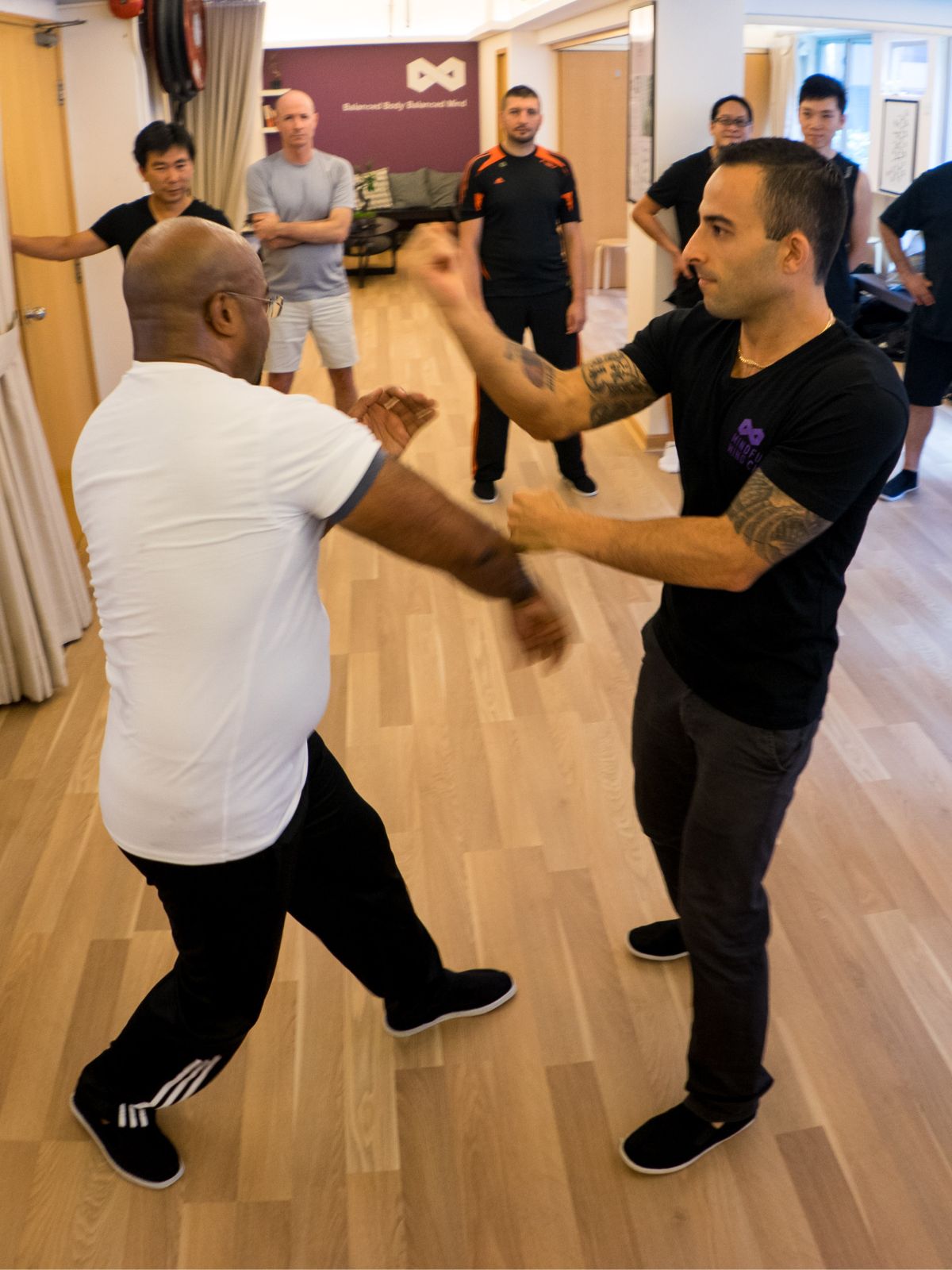 Techniques, Pad-work and Applications course – Part 3
Compulsory Prerequisite Courses
Techniques and Applications Part 1+2, Chi Sao course
Recommended Prerequisite Courses
Biu Gee and Wooden Dummy courses


This Part 3 is the final and the most Advanced course in the 'Techniques and Application' course series. It is crucial to have completed the first 2 courses of this series before moving onto this one, otherwise the pre-requisite skills and understanding will not be there to support the high level techniques that will be shared in this course!

The Techniques Part 3 Curriculum Explained
This course is 35 hrs in duration and covers covers many things such as:

Advanced Solo and Partner Techniques
with detailed explanations on how to apply the 'internal' biomechanics and experiences cultivated from the 3 empty hand and Wooden Dummy forms.  
The 'Range and Connection' exercise series
to practice un-sequenced and spontaneous striking, bridging and entering, guard breaks, and free sparring. These exercises will develop a heightened level of awareness and cultivate the 'automatic and spontaneous' responses that real Wing Chun is known for!

Advanced striking, Counter to takedown attempts, multiple attackers,
positioning on the ground (if you ever lose balance and fall to the ground), striking and correct way of getting up from the ground, clinch-work and sweeps and much more.
Detailed teaching moment videos
of actual classes and private lessons of students training with Sifu Nima and Grandmaster CST. 
Hours of teaching moment footage
of Grandmaster Chu Shong Tin teaching at his school in Hong Kong and which are all related to what you will learn in this course. These videos are translated or subtitled and are very special and unique to our online students.
Bonus old footage
of Sifu Nima teaching the techniques and applications.
The Wing Chun Way is Broad and Deep, Continuous practice will make you internally fit physically and mentally, once Techniques reach their utmost pinnacle, Power roars like the sea Day and Night! 
Grandmaster Chu Shong Tin


Frequently Asked Questions
When does the course start and finish?
This course is 35 hrs in duration.


How long do I have access to the course?
Full access to this course - No time limit.

For more information please visit our FAQ, Terms of Use or Privacy Policy page.