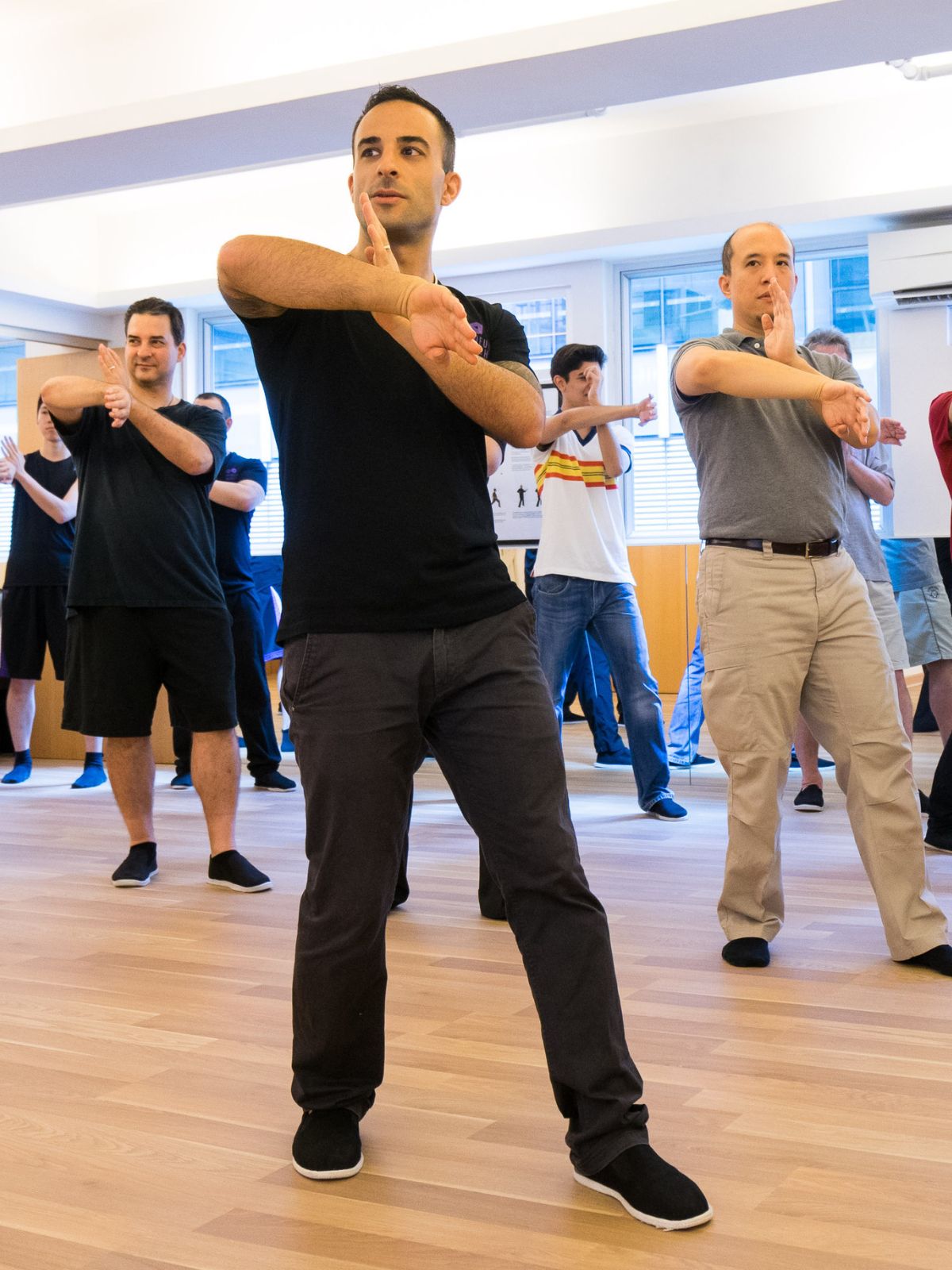 Chum Kiu Part 1

Compulsory Prerequisite Courses:
SNT Part 1, SNT Part 2
Recommended Prerequisite Courses:
SNT Part 3



Chum Kiu is the 2nd empty hand Form in Wing Chun Kung Fu. This course is Part 1 (of 2) of the Chum Kiu course, which should be completed prior to beginning Chum Kiu Part 2, and before moving onto the Biu Gee and Wooden Dummy courses.
The Chum Kiu Part 1 Curriculum Explained
In Chum Kiu we begin to learn how to feel and utilize our Center of Mass as the 'engine' for all our movements eliminating the need for brute force to generate power. However, this can only be achieved once the practitioner has attained a good level in their Siu Nim Tao practice, and has experienced the Circular structures and 'Holistic Triangulation' as well as a level of relaxation within the body to have interconnected the Stance with the movements of Siu Nim Tao.
Chum Kiu is where we begin to apply the Nim Tao state (attained from Siu Nim Tao) to mobilize the body through a unique way of stepping and pivoting, as well as kicking. Chum Kiu also teaches us the application of Multi-directional forces which allow us to use little physical effort to produce movements that are extremely hard to resist by the opponent. These ideas are very much applicable to the way we move around in daily life when walking, turning, and producing force for opening heavy doors, carrying objects while moving and climbing stairs.  
We can Say that SNT is like putting the key in to the ignition of a car, and Chum Kiu is learning how to drive it around (Biu Gee is learning how to race it).
Grandmaster Chu used to say that if 2 students have the exact same ability in SNT, the one that learns Chum Kiu will be able to produce much more power in their striking and techniques within a short amount of time. 
This course is approx. 16 hrs in duration and covers covers many things such as:
Chum Kiu prep-exercises
to prepare the body and mind for smooth pivoting of the body. These are the same exercises used by Grandmaster Chu in the 1950s before he began practicing the Chum Kiu Form.

The entire Chum Kiu form sequence
and detailed videos on correct positioning and structures of every single movement, as well as the ideas that should be applied and cultivated in the form.
The step-by-step application of the ideas developed in SNT into Chum Kiu
There are important sequences in applying the SNT ideas that ensure you will be able to transfer the interconnectivity gained through SNT into Chum Kiu. If these are not followed in the correct sequence the student will have great difficulty in utilizing the Center of Mass as the 'engine' behind all movements of Chum Kiu.
Power Generation
Grandmaster Chu Shong Tin used unique ways of pressure-testing to highlight the use of the Center of Mass to his student. All of these methods are shared in this course in very detailed videos which will allow anyone (trained or untrained) to apply the right type of resistance to your various pivoting movements. Through these pressure-tests you will begin to tangibly feel the use or lack of usage of your Center of Mass in your body's movements which we can then begin to apply to the more advanced movements.
Helpful Training Discussion
on the utilization of the Center of Mass, the common mistakes people make when moving the body and how to look for and overcome such mistakes to ensure success in this form.
Hours of Teaching Moment Footage
of Grandmaster Chu Shong Tin teaching at his school in Hong Kong and which are all related to what you will learn in this course. These videos are subtitled and dubbed over by Sifu Nima in a podcast break-down style and so are very special, and exclusive to our online students.
After this course, you can move to Chum Kiu Part 2, Wooden Dummy and Biu Gee courses in which you can continue to deepen your practice in this beautiful art of Wing Chun Kung Fu.
Happy Training!

Frequently Asked Questions
When does the course start and finish?
This course is approx. 16 hours in duration.

How long do I have access to the course?
Full access to this course - No time limit!


What's Next?
After this course, you can move to Chum Kiu Part 2, Wooden Dummy and Biu Gee courses in which you can continue to deepen your practice in this beautiful art of Wing Chun Kung Fu.


For more information regarding payment, subscription types, and other information, please visit our FAQ, Terms of Use or Privacy Policy page.